As soon as about mid-September hits I am in the mood for pumpkin. All the way through spring, I can not get enough of the glowing orange squash. We have the regular preparations: cookies, breads, pie (of course) but my head has turned to savory ways in order to get more pumpkin in my life. A few years ago I started making a Persian lamb and pumpkin stew. It has become a late fall early winter tradition. This year, I thought I would adapt it to my slow cooker.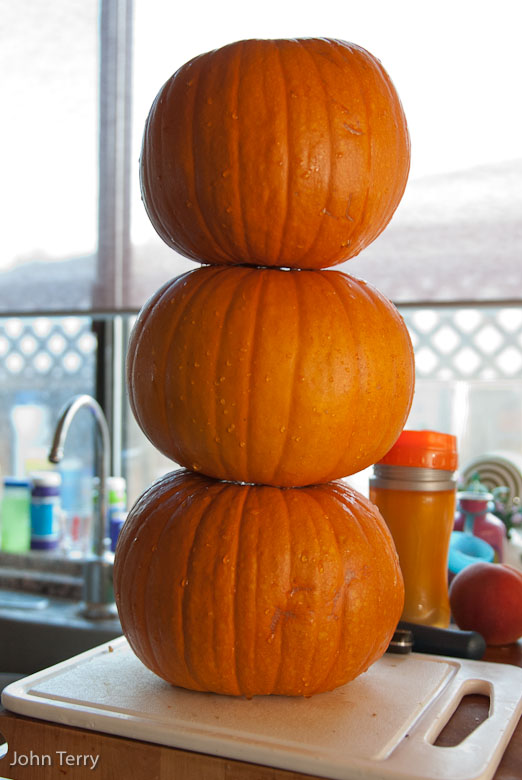 I sent John off to the grocery store for a few supplies–including lamb–one afternoon. He returned from Trader Joe's with the best they had for lamb stew meat: red wine and herb pre-marinated lamb tips. I am not one to eschew short cuts in cooking these days, but the red wine marinade didn't work with the Persian recipe. So I tinkered with the flavors a bit and tossed  it all together in the slow cooker. What came out after 8 hours was so good, I've made it again (and again) this winter.
The original recipe calls for prunes to be added at the end of cooking. I skipped the prunes, but missed the fruity acid bite they added to the finish–so I tossed in a cup of dried cherries and loved it. I use sugar-pie pumpkins (grown in our garden this year! yay!) and I use a Y-peeler to peel the pumpkin skin after I halve and clean them.
I like the pre-marinated lamb (so super easy), but really, I should be making my own. I would marinate the lamb chunks overnight in enough red wine (something on the fruity side–Zinfandel or Merlot) to cover and a blend of dried herbs as you see fit: oregano, thyme, parsley or whatever else takes your fancy. Then in the morning you're all ready for your own lamb and pumpkin stew.
Lamb and Pumpkin Stew
1 lb lamb stew meat, cut into about 2″ chunks
1 tablespoon olive oil
2 small sugar-pie pumpkins (about 3-4 lbs total weight) peeled and cut into bite-sized chunks
1 onion chopped
3 garlic cloves minced
1/2 teaspoon nutmeg
1 4″ cinnamon stick
1 cup beef stock
red wine (not too dry, Zinfandel works really well)
1 cup dried cherries (dried cranberries would also work)
Heat olive oil in a skillet over medium high heat. Remove lamb from marinade and let dry slightly on a paper towel. When oil begins to shimmer, add meat and brown on all sides. When lamb is browned, place in slow cooker. Turn heat to medium and return skillet to stove. Add onions and saute until just softened. Add remaining marinade (or a generous splash of red wine) to pan and cook, scraping up all the browned herbs and meat. Pour onions and sauce over lamb in slow cooker.
Add chopped pumpkin to slow cooker. Toss meat and onion mixture through the pumpkins. Add spices and toss again. Add beef stock, and if the liquid looks low, add some red wine. Cover and cook on low for about 8 hours. Lamb and pumpkin should be fork-tender when done. The stew is fairly dry, but if it looks as though it is getting too dry–add more wine while cooking. During the last hour of cooking, stir in the dried cherries.
Serve with Israeli couscous. I like to cook mine with a pinch of saffron. Enjoy on a winter night.